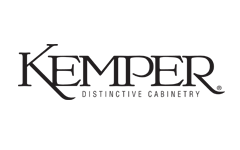 What differentiates the sleek kitchens that are showcased on our favorite HGTV home improvement television shows from our own kitchens at home? The answer is often countertop clutter. The gorgeously staged kitchens that are celebrated on tv and in magazines are meticulously styled by professional interior designers making them look picture-perfect for the camera. Many of these kitchens have never seen a dirty pan or a spilled cup of coffee – it's an unrealistic ideal!
Your new kitchen will look simply gorgeous when it is first installed and accessorized. But then you add a paper towel holder, sponges, a stand mixer, charging cables and before you know it you have lost valuable work space and your perfect kitchen looks messy and cluttered. Kemper Cabinetry has come to the rescue with a whole arsenal of smart storage solutions to keep your new kitchen looking tidy and organized. Here are ten of our favorite ways to keep your home organized with Kemper cabinets:
PAPER TOWEL AND WASTE BASKET
PULL-OUT BASE CABINET
Now matter how low-profile your paper towel holder may be, it's almost impossible to make it look chic on your countertop. With a built-in space for an under counter paper towel holder and waste baskets, this cabinet is the ultimate solution for having convenience in close proximity.
POWERGLIDE COMPACT
CABINET DRAWER OUTLET
Kitchen charging stations can be useful and convenient, but they are also unsightly. Kemper's Powerglide Compact Drawer Outlet features 2 standard outlets and 2 USB ports – perfect for charging tablets and mobile devices without cluttering your countertop.
Dishes are much easier to access when they are stored in the base cabinet drawers rather than overhead in the wall cabinets. This solution is a great way to get kids to help out in the kitchen – they can put dishes away from the dishwasher and help set the dinner table. When dishes are easy to reach everyone wins!
Kemper's Two-Tiered Pull Down Cabinet Shelf brings spices and baking ingredients in wall cabinets within easy reach. The lift mechanism reduces resistance and is simple to use.
DEEP BIN
LAZY SUSAN CABINET
A lazy susan base cabinet is convenient until someone spins the tray too quickly sending bottles and cans flying into the deepest crevasses of your kitchen. Save yourself a ton of hassle by choosing Kemper's deep bin lazy susan cabinet.
STAINLESS STEEL TILT-OUT TRAY
The sink base stainless steel tilt-out tray keeps sponges and cleaning supplies at your fingertips and out of sight.
If you love to bake you probably have a large stand mixer in your kitchen. They are large and heavy and difficult to lug from cabinet to countertop. Kemper's base mixer cabinet easily brings your stand mixer right to the height you need, and stores it away after.
TOEKICK DRAWER
PUSH-TO-OPEN GUIDES
Have you ever considered how much wasted space is under your cabinets in the toe kick? When space is at a premium, especially in smaller kitchens, a toe kick drawer can add invaluable storage space. These drawers are perfect for sheet pans, cutting boards, cooling racks, and large platters. Opens with just a tap; no hands or hardware required.
Storage solutions for the bathroom too! The bathroom is the central hub of your family's morning routine and counter space is often limited. Kemper offers some great ways to keep your bathroom functional and organized so you can be in and out in a flash.
VANITY MIRROR CABINET
WITH SIDE PULLOUTS
With this innovative bathroom mirror cabinet with side pull-outs you can access your toothbrush and make-up without having to constantly open and close the vanity mirror.
VANITY WALL
AND MIRROR CABINETS
Homeowners don't often consider adding wall cabinets to the bathroom. Kemper's 4-9/16″ deep vanity wall cabinets are the perfect way to help keep your vanity countertops clutter-free. The vanity mirror cabinet comes standard with an installed mirror.