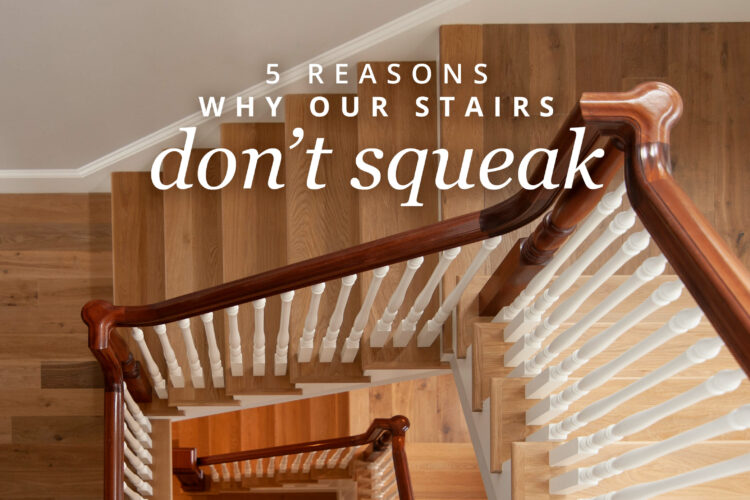 Here at Horner Millwork we often preach the many benefits of building with our Cooper Preassembed Stairs. Preassembled stairs take the guesswork out of the many details associated with the stairbuilding process. There are extensive building codes to study, designs to consider, stairwells to frame precisely, materials to order, contractors to coordinate, and many more reasons why site-built staircases can often lead to overages, delays, and unnecessary stress on the jobsite. Cooper Preassembled Stairs eliminate those headaches and make the stairbuilding process simple from start to finish.
It's undeniable that Cooper Preassembled Stairs help make the stairbuilding process simple, but the benefits of choosing our stairs will continue to pay dividends long after the home is completed. One of the most common sources of call-backs that builders face associated with staircases is for squeaks. A squeaky stair can wake a newborn, alert the household when dad is sneaking downstairs for a midnight snack, and irritate the most mild-tempered homeowner. As wood expands and contracts throughout the seasons, and joints loosen with use, it's almost inevitable that a site-built stair will begin to squeak over time. However with over 45 years of stairbuilding experience, we have developed a unique manufacturing process to ensure that our preassembled stairs remain squeak-free for years to come.
Below are 5 reasons why the stairs that we manufacturer in our factory in Somerset, MA don't squeak.
#1 // It all begins with a good plan
A squeak-free stair begins with a solid plan and design. Send us your floor plans and we will design a beautiful stair that meets local building codes and your budget. Our field techs can visit the jobsite to make certain measurements are correct and the stair well is framed correctly. Then, if necessary, our CAD department can design detailed drawings to make sure a solid plan is in place before the stair is built.
#2 // Tongue and Groove Tread/Riser Connection
Once the stair is designed and approved, our craftsmen get to work building your stair. Here is where the magic happens. Through years of experience we have developed a stairbuilding method that ensures that our stairs remain squeak-free for years to come. We route a tongue and groove joint to connect each tread to the riser. This tight connection eliminates rubbing, one of the most common sources of stair squeaks.
#3 // Routed And Wedged Stringers
Our custom routed stringers are one of the most important design advantages that our preassembled stairs have over site-built stairs. Using our state-of-the-art CNC machinery the stringer is routed 3/8″ deep and then later wedged on the underside. Too laborious and costly to mimic on-site, routed and wedged stringers eliminate the gaps between the treads and traditional stringers that often lead to squeaks.
#4 // Pocket Hole Screw and Blocked Riser/Tread Connection
Finally, each riser and tread receives a series of pocket screws on the underside to create a tight and reliable connection that is not dependent on glue.  Glue blocks are then added as an additional measure of squeak-free security.
#5 // The Squeak-Free Guarantee
Traditionally-built stairs often begin to squeak once the home has settled and after a couple years of seasonal changes. Here's where Cooper Preassembled Stairs outshine the rest. Our 5 year warranty gives builders and homeowners the peace of mind that our stairs will remain squeak-free after the wood has been given an opportunity to expand and contract over time. For more information about our 5 year warranty please refer to the Cooper Stairworks website here.
Cooper Preassembled Stair Brochure
Are you ready to begin planning your next Cooper Preassembled Stair project? Contact your Horner Millwork sales rep or our stair department at 508-235-4397.